CFA Institute Research Challenge
The CFA Institute Research Challenge is sponsored by CFA Institute and locally hosted by the New York Society of Security Analysts. The CFA Institute Research Challenge is an educational initiative in which leading industry professionals teach business and finance students how to research and report on a publicly-traded company. NYSSA originated the competition fourteen years ago (as the "Investment Research Challenge") as a means to promote best practices in research among the next generation of analysts.
The Research Challenge spans one academic year, and consists of the following components:
Training in Research and Report Writing: Students receive training by attending NYSSA-sponsored seminars on Tools for Analysts, Presentation Skills, Report Writing, and Ethics. Seminar instructors are selected by NYSSA.
Analysis of a Public Company: Teams research the same public company, selected by NYSSA, including a question-and-answer session with company management.
Mentoring by a Financial Market Professional who advises and critiques the team's report.
Assessment of Written Reports: A group of volunteer graders selected from NYSSA's membership assess the written research reports.
First-Round Presentation to High-Profile Wall Street Experts: All teams present their research to Wall Street experts. The experts choose the "final four" who have the strongest research to present their final report.
Final-Four Presentation to a High-Profile Wall Street Experts: The "final four" present their research to a panel of respected Wall Street experts. The winning team is selected based on the combined scores for the written report and the presentation.
The winning team advances to the Americas Regional to compete against other North American teams in Seattle, WA on April 6 & 7, 2017.
Congratulations to 2017 Regional Champion Seton Hall University!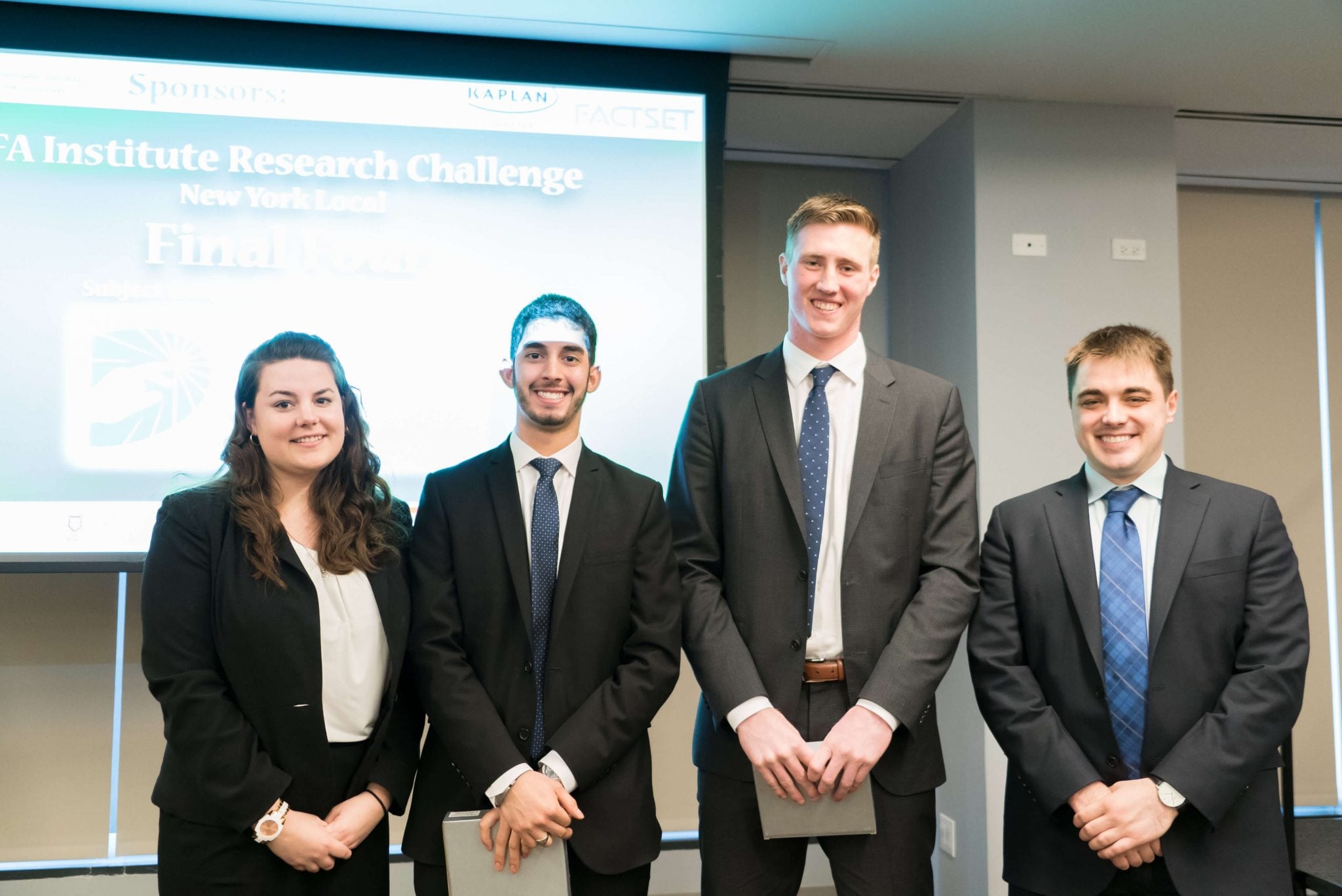 Sponsored By
Data Sponsor

Past Winners
 2017
Seton Hall University
Team Advisor: Tony Loviscek
Team Mentor: David Dineen, CFA
Team Members: John Gallagher, Jonathan Glincman, Kathleen McCarthy, Mark Moskwa, and Anthony Pescetto
 2016

Binghamton University
Team Advisor: Dina Layish
Team Mentor: Daniel Barile, CFA, CAIA
Team Members: Eric Dohn, Liam Hayes, Brandon Hohenberg, Robert Pim, and Ronick Sanon

2015
Rutgers University
Team Advisor: John Longo, CFA
Team Mentor: Ed Maguire
Team Members: Matthew Fishbein, John George, Vikram Kesavabhotla, Susan Smith, and Greg Timko
2014
Fordham University
Team Advisor: Robert Fuest
Team Mentor: Michael Kiernan
Team Members: Frank Kong, Prapunsak (Ta) Wongpaitoon, Charmian Cooper, Neil Dhruve, and Matthew Henriksson
2013
Fordham University
Team Advisor: Robert Fuest
Team Mentor: Michael Kiernan
Team Members: Jonathan LaSala, Elaine Lou, Paul Kearney, and Ken Boswell
2012
Rutgers University 
2011
Rutgers University 
2010
Fordham University 
2009
Yale University 
2008
Rutgers University 
2007
Seton Hall University 
2006
Seton Hall University
2005
Fordham University 
2004
New York University 
2003
Pace University 
Join the conversation: get updates from #CFAchallenge