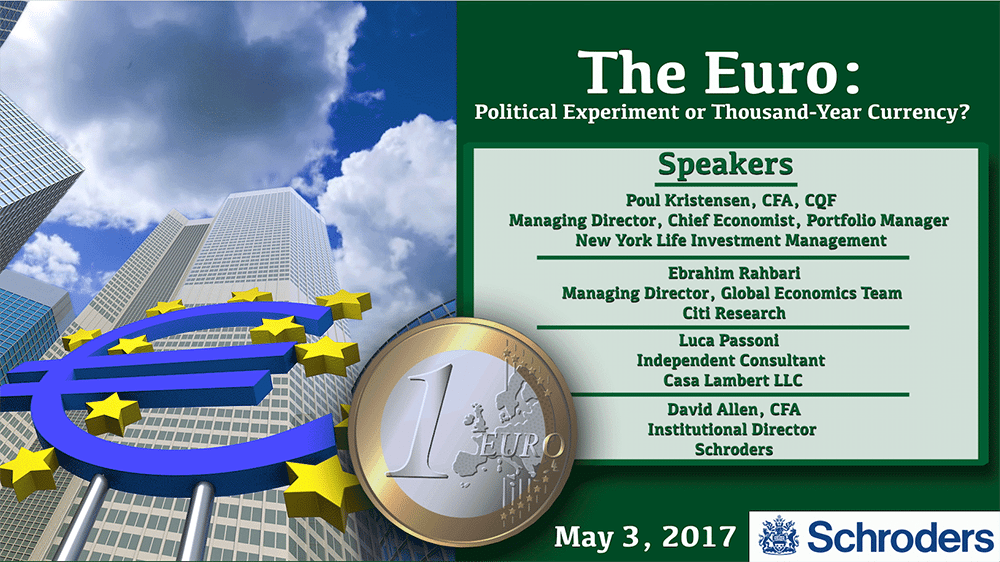 The Euro: Political Experiment or Thousand-Year Currency?
May 3 @ 5:30 PM

-

8:00 PM
The introduction of the Euro in the late 1990s was the fruition of decades of planning, and held the hopes and dreams of several generations of Europeans.
The work of European statesmen, politicians, and their citizenry now appear at risk of permanent fracture, if not comprehensive failure. Can the common currency survive the current political climate? Can Eurozone countries adapt to new pan-European realities? Will an intact Euro depend on fiscal union? Will the Euro thrive as a symbol of peace—after Europe's most deadly century—or will it also succumb to the separate wills of nations? We will explore these and many other macroeconomic and geopolitical questions and points of view in the days before the seminal French election.
Agenda
5:45PM Registration
6:05PM Opening Remarks
Harumi Urata-Thompson, CFA, COO, NYSSA
6:10PM Panel
Poul Kristensen, CFA, CQF, Managing Director, Chief Economist, Portfolio Manager, New York Life Investment Management
Ebrahim Rahbari, Managing Director, Global Economics Team, Citi Research
Luca Passoni, Independent Consultant, Casa Lambert LLC
Robert Lynch, Global Head of Foreign Exchange Strategy, JPMorgan Private Bank
Moderator: David Allen, CFA, Institutional Director, Schroders
7:20PM Closing Remarks
David Allen, CFA, Institutional Director, Schroders
7:25PM Reception
8:30PM Adjourn
DISCLAIMER OF ENDORSEMENT

References herein to any specific sponsor or service do not necessarily constitute or imply the endorsement, recommendation or favoring by CFA Society New York. CFA Society New York strives to be a community for diverse opinions and differing perspectives, and the views and opinions expressed by speakers, presenters and/or organizers at events do not necessarily state or reflect those of CFA Society New York.

CFA Society New York expects all attendees to comply with CFA Society New York's Code of Conduct while attending CFA Society New York events or meetings. 

CFA Society New York expressly reserves the right, in its sole discretion, to grant or deny access to any individual, or to expel any individual from any CFA Society New York event or meeting.


CFA Society New York is not a Registered Investment Advisor, Broker/Dealer, Financial Analyst, Financial Bank, Securities Broker, or Financial Planner. While CFA Society New York seeks to present accurate and reliable information, CFA Society New York does not endorse, approve, or certify such information, nor does it warrant or guarantee the accuracy, completeness, efficacy, timeliness, or fitness of such information for any particular purpose. Information presented may or may not be current as of the date of the presentation, and CFA Society New York has no duty to update and maintain the information, reports, or statements made during events.
The information presented is provided for information purposes only, and is not intended to be and does not constitute financial advice, investment advice, trading advice, or any other advice, is general in nature, and is not specific to you. None of the information presented is intended as an offer or solicitation of an offer to buy or sell, or as a recommendation, endorsement, or sponsorship of any security, company, or fund. NYSSA is not responsible for any investment decision made by you.
You should not make any financial, investment, trading or other decision based upon any of the information presented at NYSSA without undertaking your own independent due diligence and consulting with a qualified and registered securities professional. You understand that your use of any of the information presented at NYSSA is at your own risk.
There is a substantial amount of risk in trading securities, and the possibility exists that you can lose all, most or a portion of your capital. NYSSA does not, cannot, and will not assess or guarantee the suitability or profitability of any particular investment, or the potential value of any investment or informational source. The securities mentioned in any NYSSA presentation may not be suitable for investors depending on their specific investment objectives and financial condition.
All requests for Withdrawals must be submitted in writing and dated. The date of the request will be the date it is received by NYSSA. Requests may be faxed to (212) 541-4677, or emailed to seminars@nyssa.org.
Withdrawals from events, live or streaming, are subject to the following policy:
24 HOURS ADVANCED NOTICE OR MORE: Credit to be issued (to be used within 6 months)
LESS THAN 24 HOURS OR AFTER EVENT HAS STARTED: No refund
For more information: Policies and Procedures